What is the worst moment in Oscars history? There are certainly a few to choose from. It could be the streaker that ran across the stage at the 1974 Oscars, prompting actor David Niven to say, "Isn't it fascinating to think that probably the only laugh that man will ever get in his life is by stripping off and showing his shortcomings?" Maybe it's when La La Land won Best Picture, only it didn't: Moonlight did. John Travolta announcing Idina Menzel's Oscar win, calling her "Adele Dazeem" is bad, but perhaps not the worst. "We Saw Your Boobs", host Seth MacFarlane's ode to actresses whose… um, assets have been seen on screen, is a contender for sure. If it isn't any of these – and it isn't – then surely, surely, it's the slap heard around the world, Will Smith storming the stage and smacking Chris Rock, a move which resulted in Smith being banned for a whopping ten years from Academy events. Close, but no cigar. The worst moment in Oscars history actually occurred during the fiasco that was the 1989 Academy Awards. Hint: it was a decidedly Lowe moment.
The 1989 Academy Awards were entrusted to Hollywood producer Allan Carr, who had hit gold with 1978's Grease. The larger-than-life character had fallen out of the limelight after the success of Grease with a string of flops that included Grease 2 and Can't Stop the Music, and thought taking on the challenge of producing the Oscars would be his ticket back to the top. His goal was to make the evening memorable, bringing together the best of Broadway and Hollywood with a number of innovative ideas. Some of those ideas are still being used today, like extended red carpet coverage, clips from each of the Best Picture nominees, and the now-timeless phrase, "The Oscar goes to…" That would be the extent of anything positive that could be pulled out of the Hindenburg of award ceremonies.
RELATED: Remember That Time the Oscars Did the Math Wrong?
This Rob Lowe & Snow White Duet Is the Worst Moment In Oscars History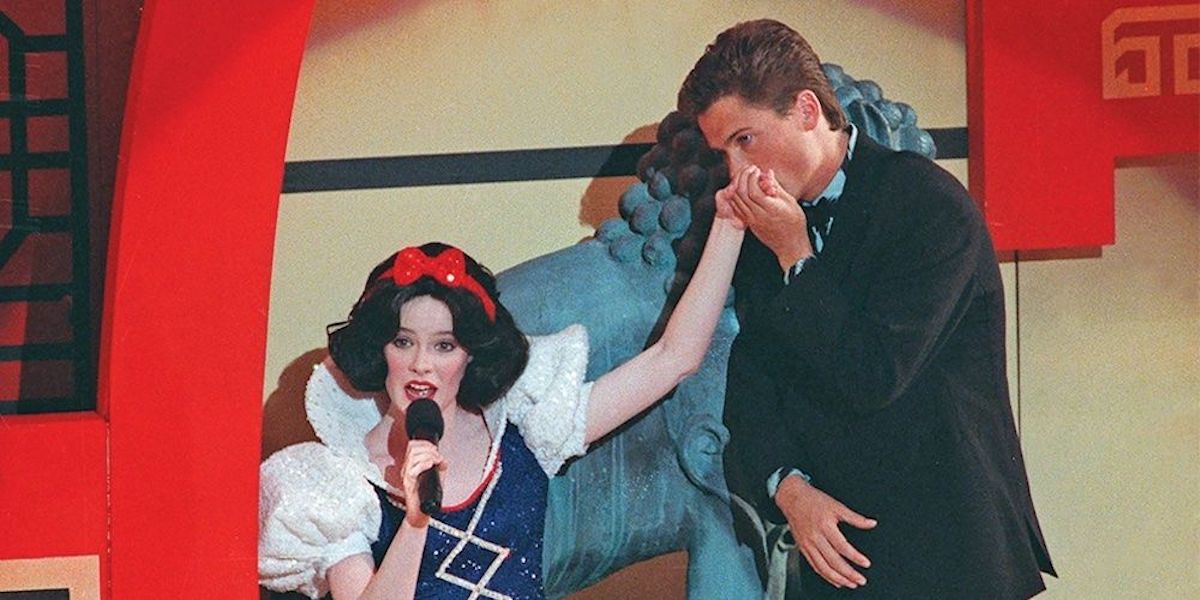 Carr decided to forgo having a host for the evening, opting instead for a series of performances throughout, and it is the first one of the evening that bears the mark of the all-time Oscars worst. The evening began with Snow White, played by an aspiring, unknown (and visibly overwhelmed) young actress named Eileen Bowman. Snow White runs to the stage, singing some weird version of the standard "I Only Have Eyes for You", slapping hands with mortified A-list celebs. A samba routine immediately follows, because obviously you put "samba" and "Snow White" together. Then Merv Griffin arrives, sings "I've Got a Lovely Bunch of Coconuts", and introduces Snow White to her blind date for the evening: actor Rob Lowe, mere weeks away from being caught in a scandal involving sex with a teenager (and clearly wanting a little somethin' somethin' from Ms. White).
Snow White and Rob Lowe – shipped as "SnowLowe" (not really) – then proceed to butcher sing a rewritten version of "Proud Mary" as a duet. "Used to work a lot for Walt Disney / Starring in cartoons every night and day / But you said goodbye to Grumpy and Sleepy / Left the dwarves behind, came to town to stay." Now the chorus! "Rolling, rolling, keep the cameras rolling." Cue the saxophone solo, and bring out the dancers dressed like Carmen Miranda. And why stop there? How about tables that grow legs and start dancing too! Then, Snow White starts dancing to "Hooray for Hollywood" with the iconic Grauman's Chinese Theater balanced on her head. The entire debacle clocks in just under 12 minutes. At least MacFarlane wrapped up "We Saw Your Boobs" in under 2. Even if it felt like a full 12.
The Worst Moment In Oscars History Left Casualties
The aftermath of the evening's events was swift and brutal. Disney brought a copyright infringement suit against the Academy of Motion Picture Arts and Sciences, claiming they had used Snow White's image without permission. A letter, signed by 17 of Hollywood's best talents including Paul Newman, Julie Andrews, and Gregory Peck, made the rounds decrying the ceremony as "an embarrassment to both the Academy and the entire motion picture industry, and it is neither fitting nor acceptable that the best work in motion pictures be acknowledged in such a demeaning fashion." Allan Carr never worked as a producer in Hollywood again following the show, and Lowe's career, between the Oscars and his sex scandal, wouldn't see signs of life for over a decade. 22-year-old Eileen Bowman, Snow White herself, was arguably hit the hardest, her career over before it had even begun. She was forced to sign a gag order, a 13-year sentence of being unable to talk about her lone claim to any sort of fame, and faded into obscurity. It should have been an evening that launched Bowman into the limelight, one that brought Carr back into it, and a highlight of Lowe's lengthy career. Instead, it became the worst Oscars telecast of all time, one that was darkly joked to be the reason that legend Lucille Ball, whose final public appearance was as a presenter, died almost one month to the day after its airing.
The Oscars will never please everyone. They will always be too long, too boring, too white, not serious enough, not funny enough, or another in a myriad of issues perceived by the public, fairly or not. Anything new added to tweak the ceremony is rarely heralded as a good move, while removing anything, regardless of its popularity or lack thereof, is a sin akin to Adam and Eve eating fruit while wearing fig leaves. It would be safe to say, however, that so long as the Academy Awards doesn't have an 11+ minute duet that doesn't do it, end with a building sculpture atop the head of a Hollywood newcomer, result in a lawsuit, and kill the careers of multiple people in the industry, then it's a winner.